The Band Biography
Johnny Wartenweiler - Electric and Upright Bass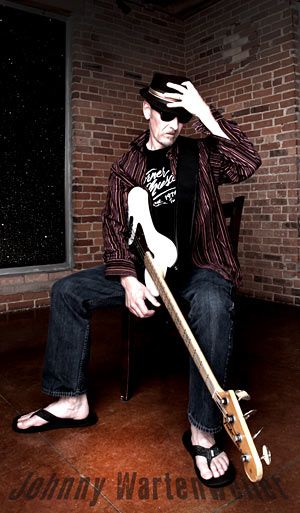 A two-time Wisconsin Area Music Industry (WAMI) Bassist of the Year nominee, and winner of the 2014 Madison Area Music Awards (MAMA) Bassist of the Year, Johnny Wartenweiler has toured North America, Europe, and the Caribbean. 
Johnny prefers a laid back style, developing the pocket and pushing or pulling the beat as needed to create the best groove possible. His sparse playing with percussive, sometimes ferocious attack along with subtle nuance keeps listeners on their toes. Johnny cites Wille Dixon, James Jamerson, Duck Dunn and T-Bone Wolk as influences.
A favorite of the many drummers he has worked with, Johnny relates a story about Funk Master Clyde Stubblefield: 

"I'm playing with an icon; I mean James Brown's drummer! About the second song in, he (Clyde) lights me up with a fill, the likes of which I'd never heard - I mean, he's back on the one while I'm still thinking about what he was doing on the three. We settled in and had a great show. Afterwards I introduced him to my kids, and he turned to them and says, 'your Dad's a funky man'!'"
 
...'Nuff said!