Bios
Jimmy Voegeli - Singer/Songwriter, Keyboardist, Band Leader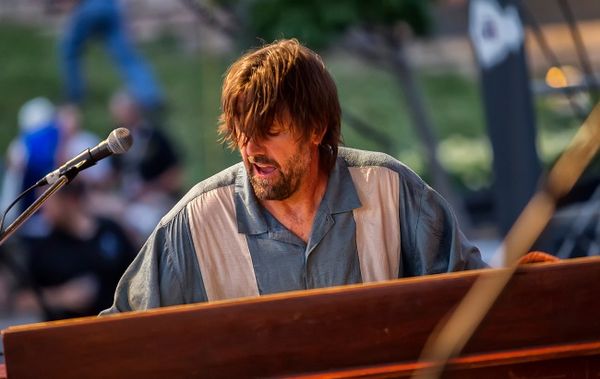 A Hammond Organ Artist, Jimmy's won MAMA (Madison Area Music Award) awards for "Keyboardist of the Year" in 2010, 2012 & 2015. Jimmy also received WAMI (Wisconsin Area Music Industry) awards for "Keyboardist of the Year" in 2011 and 2015. In 2015 The Jimmys won a MAMA award for "Blues Performer of the Year" and in 2012 earned a WAMI award for "Best Swing/Big Band Ensemble."

During the day Jimmy helps out on his family's fifth-generation dairy farm. They till 1,500 acres of crop land, milk over 200 Brown Swiss dairy cows: and export embryos, bull semen, and live animals all over the world! They show and exhibit dairy cattle throughout the states. His grandfather, father, and brother are world-renowned dairy geneticists, selling their genetics to 100's of countries, on every continent (except Antarctica). If you need cows (or farm cats) they are your one stop shop. 

Jimmy played with the Westside Andy and Mel Ford band for 18 years - voted "Best Blues Band in Wisconsin" and "Best Band in Madison" numerous times; they received a Grammy Award nomination for "Contemporary Blues Album" in 2003. Jimmy went to Europe with The Crashers in 2003 in support of their "Love School" CD, touring with Dan Baird and Homemade Sin.
He's been on stage with such greats as Pinetop Perkins, Rusty Zinn, Guitar Shorty, Joe Bonamassa, Perry Weber, Rev Raven, Billy Flynn, Tab Benoit, James Solberg, Shirley King, EC Scott, Clyde Stubblefield, Ben Sidran, Ken Saydak, and Dave Specter. There'd be more listed if his crusty little brain could remember!
Jimmy's recorded with The Funkmasters (John 'Jabo' Starks and Clyde Stubblefield - former drummers for James Brown), The Crashers, Lucas Cates, Robert J, Paul Filipowicz, The Velveetatones, Alex Wilson, Aaron Williams, Bobby Messano, and Fedora - just to name a few.