Pete Ross
Q) When did you join The Jimmys and how did that happen?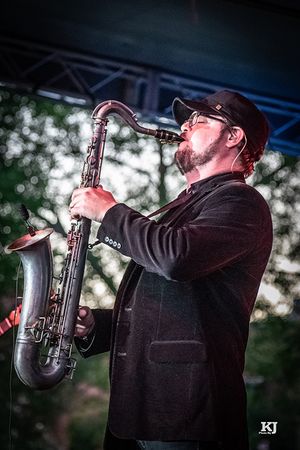 A) It was Sept 2008. I'm a few days removed from being one of the original members. It was at the Great Taste of the Midwest. I was in the horn section with Clyde Stubblefield's band at the time.  
Q) What is your musical history?  
A) I grew up in a musical family in Wisconsin and started playing saxophone in 6th grade. I have a degree in Jazz Studies from the University of Michigan. I lived and played in Chicago after college before moving back to Wisconsin to continue my musical career with the likes of the Glenn Miller Orchestra and of course, The Jimmys. 
Q) Who are some musicians who have inspired you?  
A) Saxophonists Johnny Hodges, Charlie Parker, and Art Pepper. 
Q) Who do you enjoy listening to today?
A) Depends on what I am in the mood for. A few are Lizzo, Vladimir Ashkenazi, Chopin's mazurkas, and anything by The Cars.  
Q) Do you do any other work related to music, and if so, what?  
A) Yes, I am a private-lesson saxophone teacher at the Madison Music Foundry, and I also coach their student soul band, The Blue Dyes. And like many of us, I sit in with other bands when asked, if time allows of course. 
Q) Is anyone else in your family a musician, and if so what do they play?  
A) My family has an incredible musical story. I'm a bit of a black sheep in that my background is in jazz and the rest of my family is more classical. My dad was my band director at Appleton West High School. He is still conducting today, currently with the Lawrence Arts Academy Wind Ensemble. His music education was at Northwestern. My mom was a private-lesson piano teacher. My older brother Tom is a percussionist. He is currently the director of, and plays with the Handphibians, as does his wife Elena. He is also an adjunct professor of percussion at UW Madison, where he got his education. My younger brother Joe is a collaborative pianist and he studied at both Lawrence University and the Franz Liszt School of Music in Budapest. Joe has now become a full-time caddy. 
Q) Which instrument(s) do you play in addition to one you play with The Jimmys?  
A) I play tenor sax with the band now, but used to play alto. That is my favorite instrument. I also play the clarinet. I fixed up and played Perry Weber's grandpa's clarinet on What My Baby Wants off of our Hot Dish album. 
Q) What led you to choose the instrument(s) you play?  
A) My buddy Jesse Hooker in 6th grade played sax, so I decided to, as well. Bill Nelson was our band director and he played sax. Mr. Nelson turned me on to my first jazz recordings. 
Q) Where is the first place you were paid to play and how old were you? 
A) It was in high school. The Peterson Ross quintet, aka the PR5 played the grand opening of the Pick & Save in Appleton, WI, in the meat section. The quintet consisted of piano, bass, drums, trombone and sax. 
Q) What is your favorite gig to play with The Jimmys and why?  
A) There have been a lot of good ones, but I love Oktoberfest in New Glarus...because it's not in October.  
Q) What is your favorite song to play with The Jimmys and why?  
A) Someday Baby, because we are good at it.