Guitar Player, Songwriter Perry Weber
Q) When did you join The Jimmys and how did it happen? 
A) I can't remember the year, but it was at least 8 years ago. I've known Westside Andy and Mel Ford for years, and Jimmy was sitting in with them. I did not have my band anymore, so I called him. I saw how people really liked The Jimmys. I thought, well it's not straight blues, but I betcha I could do it. Not long after I called him, it just worked out that he wanted a guitar player, so that's how I got in. I always thought Jimmy was one of the nicest guys you could meet, and I said, wow this could be really cool. 
  
Q) What is your musical history? 
Q) Who are some musicians who have inspired you? 
Q) Who do you enjoy listening to today? 
A) These 3 questions kind of all blend together for me. I still listen to the old stuff. People like Albert, BB and Freddy King, Howlin' Wolf, Muddy Waters. Freddy is one of the best ever. There were newer guys, too, but now those guys are pretty old. There are some younger guys now that knock me out. Two of the first guys I really loved were Jimmy Vaughan and Anson Funderburgh. Then there's Ronnie Earl, Kid Ramos, and Hollywood Fats. Ask me again tomorrow and you might get a list of 20 different names. Nick Curran was a phenomenal guitar player and singer who died of mouth cancer in his 30's. Another guy from Norway near where we (The Jimmys) stayed is Kid Anderson who is now in LA; amazing guitar player. There's so many of them. It's a whole thing. When I was first playing, unless you saw these guys in person, you wouldn't know who they were. I lived with Hubert Sumlin for about 7-8 years, and he played with Howlin' Wolf for 22 years. Luther Alison and Bryan Lee lived in my neighborhood in Milwaukee and every night one of them was playing somewhere. They were real role models for me. At the time I didn't really realize what I was seeing or what was happening. Some of the guys I hung around with went back to Robert Johnson days. That's like back in Bible days. There's like only one picture of him in existence, you know. Now people talk about these guys with all this reverence, well I knew them and got to play with them. Just luck in some ways. 
Q) Is anyone else in your family a musician, and if so, what do they play?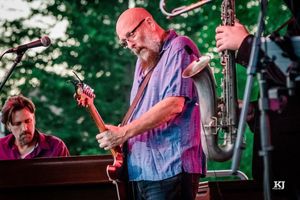 A) My grandfather on my mother's side was a big band, swing band, and marching band guy. In fact, Pete (Ross) fixed up and played his clarinet on What My Baby Wants that's on our Hot Dish record. 
Q) What led you to choose the instrument you play? 
A) Watching the guys play guitar, even on TV, it just intrigued me. I had a couple buddies that played and as one brother gave the other little brother a guitar to learn on, then they gave it to me. We lived next door to each other. 
Q) Where is your favorite place (city or venue) to play and why? 
A) The Up and Under Pub in Milwaukee. That was the place to be. I hung out with Chris Farley there. Also, the Harmony Bar in Madison back in the day. Keith (prior owner) was one of the greatest guys. 
Q) Where is the first place (city and venue) you were paid to play and how old were you? 
A) It was Calhoun Hall in Milwaukee and I was probably 18. 
Q) What is your current favorite song to play with The Jimmys and why?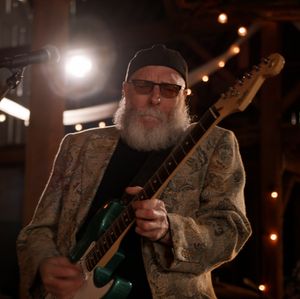 A) Someday Baby, written by my buddy Jim Liban 
Q What song would you like to see The Jimmys add to the regular song rotation? 
A) Well it's probably a song I haven't even written yet, you know what I mean. 
Editor's Note: I transcribed this from a call with Perry. I hope I got things right, and that his passion translates here. He really does need to write a book. Thanks, Kim
Subscribe to the bands You Tube Page Here