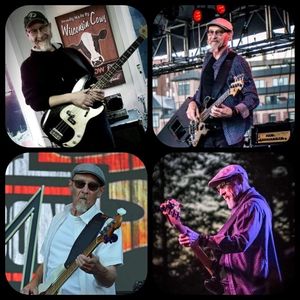 Episode Two - Meet The Jimmys 
Johnny Wartenweiler - Electric and Upright Bass
When did you join The Jimmys and how did it happen? 
I am one of the two remaining founding members, the other being himself. It was basically the Crashers rhythm section and the Clyde Stubblefield horns. Myself, Mauro Magellan, Gary Hendrickson, Ken 'Birddog' Olufs, Bryan Husk, Chad Whittinghill, Alex Leong and of course Jimmy. Pete joined shortly after and joined us for a couple shows in Austin during SXSW when the band was in its infancy. 
Where is the first place (city and venue) you were paid to play and how old were you? 
My first paid gig was at the Moose Lodge in Monroe WI with a country band called One Foot in the Stirrup, for a wedding or something. I think I was 19 or 20 at the time. I was so nervous I just stood behind the front man who was bigger and taller than me, perfect human shield. 
 Is anyone else in your family a musician, and if so, what do they play? 
 My son plays bass/guitar in The Family Business and fills in admirably for me in the Jimmys.  He plays sax and piano too. He and his lovely wife have been recording alt country duo's during the lockdown. My daughter plays piano and played oboe in high school. 
What has been the best (or worst) gig ever and why? 
"You know, I've played a lot of shows in my career, and this is definitely one of them" A certain high end restaurant wanted to try live entertainment in their limited outdoor space and the "manager" thought it would be nice if we could set up in the corner, by the dumpster, on the washed stone drainage rocks... 
Who are some musicians who have inspired you? 
I sometimes feel that my inspirations have left me to my own devices after so many years, there's so much magic all around, be it food, nature, love, music old and new. 
What is your musical history?  
I think I traded a record player for an old Univox hollow body bass and learned the first twelve bars of Smoke on the Water around fifth grade.  I put on a little show in the garage and all that, "classically" trained French horn, as were our good friends Carol Robertshaw and Cheap Trick drummer Bun E. Carlos! 
What led you to choose the instrument(s) you play? 
Cheap and easy, down and dirty 
Let it roll and Go Pack Go!!                                         Read more about Johnny.....